Now, here's a merchandise idea and a half… 😉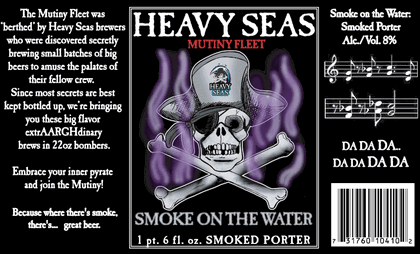 Hot on the heels of the Deep Purple Zinfandel, the Heavy Seas Brewery down in Maryland is releasing in June an Imperial Smoked Porter very appropriately called Smoke On The Water:
This first time release boasts complex roasted malt flavors with a hint of smoke. Available in 22oz bottles and limited draft. Approx 8% ABV. Pair this porter with anything cooked on the grill and smoked gouda.
The "smoked beer" takes it's taste from the malt which is roasted using open flame, as opposed to kilns (which is the prevalent modern method). Slow roasting on open flames impart smokiness in the malt, which transfers to the final product. It's a technique still widely used in Scottish Isles for whisky malt and in Bamberg, Germany, for making the Rauchbier. The taste can range from the very subtly smokey Aecht Schlenkerla Rauchbier to the full blown "liquified smoked salmon" Unibroue Titanic (the latter sadly seems to be discontinued).
Cheers!
Thanks to Adam from beernews.org for the info.