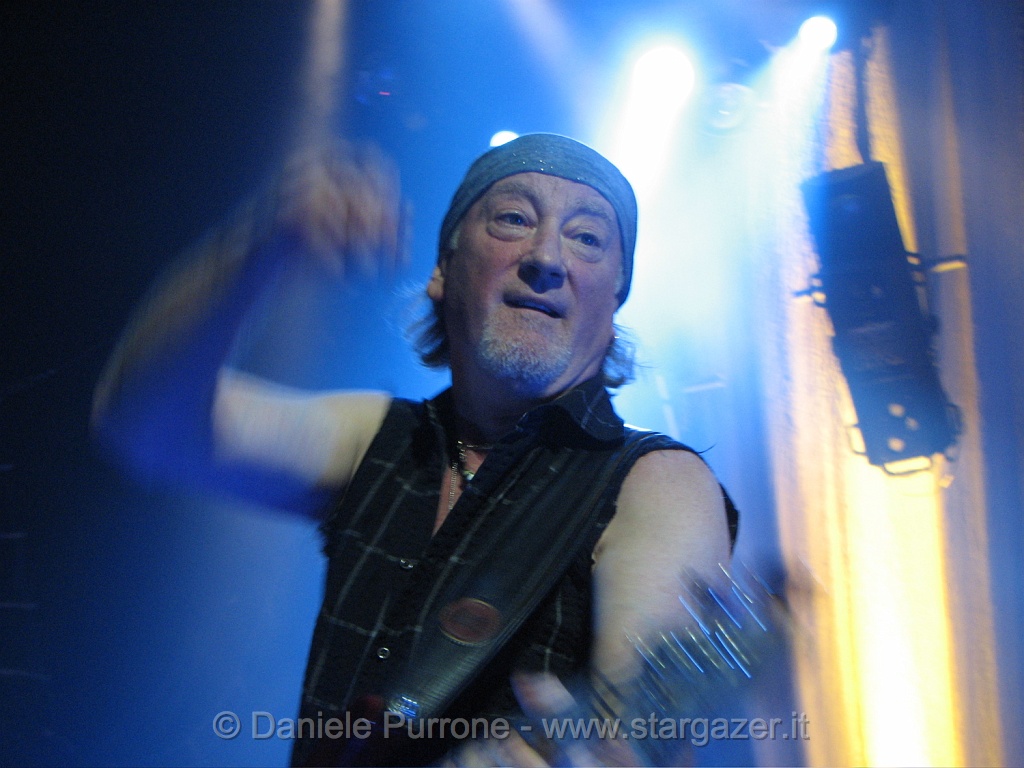 See all of Daniele Purrone's photos.
House of blues in Atlantic City is quite a small place which is perfect for a great intimate atmosphere. Me and my friends had golden circle seats in the second row right in front of the stage. However, as soon as Purple hit the stage with Pictures of home a bunch of people (myself included) rushed the stage.
The security people were really nice and did not try to force people back in their seats. I took a spot right in front of Roger and Ian Paice and spent the rest of the concert singing, jumping, waving my hands and having a jolly good time. And what a good time it was!
Within the first few moments of "Pictures of Home" I managed to shake hands with big Ian and make eye contact with Roger during his bass solo. The band was firing on all cylinders and I was savouring the magic of the moment. And it was truly magic!
I have been to many great concerts so far – both front middle and back rows, but the Deep Purple concert at the House of Blues was hands down the best experience of the lot. Half way through the show I got a pick from Roger. Then during "Lazy" for the first and last time during the show Steve walked to our side of the stage and I got a pick from him too!!! I was ecstatic! …
I love every member of the current line up, but being a drummer I have a soft spot for Ian Paice – who is naturally a huge inspiration and influence for me. At the end of the main set I did my best to shout and wave at Ian to throw me a drum stick – I managed to catch his attention and he threw one towards me, but missed by a small margin and the guy to my right caught it before I could. The friends I was with were so disappointed with that, but I told them not to worry.
Deep Purple came for an encore and played great version of "The Battle Rages On" and "Hush" and then … well, again I waved frenetically and once again Ian saw me. This time his throw was spot on and the drum stick was mine! I could not believe my luck … two days later and I still can't believe my luck. How can any other concert top this one? It will be hard – very hard … probably impossible. I feel so lucky and grateful for having had a chance to see my favorite band in such an intimate environment and get away with a pick from Roger and Steve a drum stick from my favorite drummer and a few hand shakes with Ian Gillan.
As far as the sound went, being in front of Roger and little Ian I heard plenty of bass, good amount of drums, and satisfactory amount of keyboards and guitar. However, Ian Gillan could barely be heard. But this was to be expected being right against the stage. For a good sound mix I could have gone further back, but this was my fifth time seeing Deep Purple and I was more content with feeling the thrill of being right in front of the band than sitting back doing the critical listening. My dad however, had seats further back and he said that the mix where he was standing was perfect and that Ian Gillan in particular was in top form.
Big thanks to Deep Purple for such a magical night.
The set list was:
Pictures of Home
Things I Never Said
Into The Fire
Strange Kind of Woman
(The first four songs above really went right into each other)
Rapture Of The Deep
Woman From Tokyo
Guitar solo (short)/
Well Dressed Guitar
Knocking At Your Back Door
Lazy
Keyboard solo
Perfect Strangers
Space Truckin'
Highway Star
Smoke On The Water
The Battle Rages On
Hush
Niksa Blonder