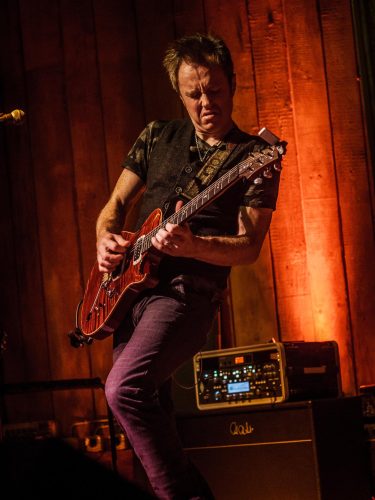 Simon McBride spoke to the Scars and Guitars podcast at the beginning of June (i.e. after the start of the tour, but before the announcement of Steve's retirement).
At the end of the day, for me, with this gig, there's been lots of people saying, or asking me will I play like Ritchie or will I play like Steve or will I do this like Tommy or Satriani or whatever. So that thing initially kind of confused me a little bit; I didn't know what to do. It was only when I was talking to [DEEP PURPLE keyboardist] Don Airey about it, and he just said, 'Forget about it all. Just be you. Play your own thing.' That's it. Which I did. And I kind of started to relax a little bit and just be myself.
When you start to think about who else has been in the band, you get a little bit confused what to play or when to play or what to do or 'should I play this like Ritchie?' or 'should I play it like Steve?'

Everybody has their own opinion on the guitar players in DEEP PURPLE and which ones worked better or whatnot. I [am] respectful to everybody who's played there, because they're all good players — every single one of 'em — so whether it's Ritchie or Tommy or Steve, I just kind of [am] respectful to what they've done in the past, and I just do my own thing most of the time.

There's certain things you have to play. Like 'Highway Star', for example, I'm not gonna play anything different to what's there in the original, because why the hell would I? [Laughs] That's my attitude. If it ain't broke, don't fix it.
To be honest, everybody's been so nice and so cool and so kind, especially on the social media stuff where it's all been very positive. You get the odd negative one, but I don't read a lot of it anyway. But it's really cool that people accept me, because it is a legacy band and they've been around a long time. I really appreciate that people are digging what I do, and I feel it every night onstage. Some of the shows we've done, some of the audience reaction has been incredible.

We played a show in Macedonia. We came off. We did an encore and stuff. And then 20 minutes later, the audience are still shouting," he recalled. "I'd never heard this my entire life — 15, 20 minutes of 10 thousand people shouting for more, just constantly, and they wouldn't leave. Even Don Airey and Roger Glover were standing there in shock, going, 'We haven't heard this in a long, long time.' I'm not saying that's all for me; I'm just saying that's just for the band.

I'm very [happy] that people like what I'm doing because it is always hard stepping into a band where you've had [laughs] Ritchie Blackmore, Steve Morse, Joe Satriani and Tommy Bolin. They're not small names by any means, so it's always very… I think if you just play and have fun, that comes across and people respect that and people will really see.

I'm 43, so I kind of grew up in that old-school playing method anyway. 'Cause I grew up in the '80s and '90s, so I guess I'm still part of that older generation, if you wanna call it. So the way that I play would still fit very well, whereas maybe some of the new, modern players wouldn't fit. I don't know.

Yeah, the response has been brilliant. I can't complain at all. And I thank every single person that has said a nice thing about me.
Listen to the interview:
Hurry up, we're being told that this podcast issue might disappear at the end of August for corporate reasons.
Thanks to Blabbermouth for the info and quotes.