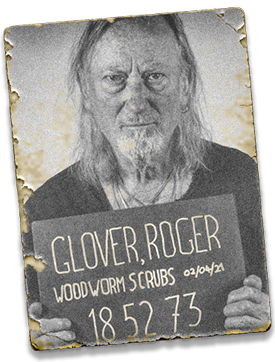 HMP Woodworm Scrubs inmate #185273, one Roger Glover, talked to the Forbes magazine about Turning to Crime.
"Oh Well" and [Huey "Piano" Smith's] "Rockin' Pneumonia and the Boogie Woogie Flu." Plus some Freddie King in the closing medley. There's definitely some bluesy moments on this record. Was there a concerted effort to sort of flex that muscle, showcase that element of the band?

RG: The blues is definitely there. Rock and roll is based on it. You can't get away from it. But, no, we didn't think of anything like that. We just picked songs that were close to us or that we liked very much. There's some emotional moments. There's some moments from our history.

We were all born in the 40s and 50s. So the early part of rock and roll is all a great part of it. And what happened after that, from The Beatles and Stones to west coast music, there was a huge kind of fantastic glut of brilliant songs coming out. And they get to you. Once you hear something like that, they get stuck in you – they're in your bloodstream.

Things like [Little Feat's] "Dixie Chicken." And "Rockin' Pneumonia." All of those Love songs. I used to play Love songs before I joined Purple. Very into Love. And there's a skiffle song there. I know in America it was by someone else, but I had heard it by Lonnie Donegan – "The Battle of New Orleans." Which is maybe an odd pick for a rock band to play but it's fun. Why not?
Continue reading in Forbes.
Thanks to BraveWords for the info.