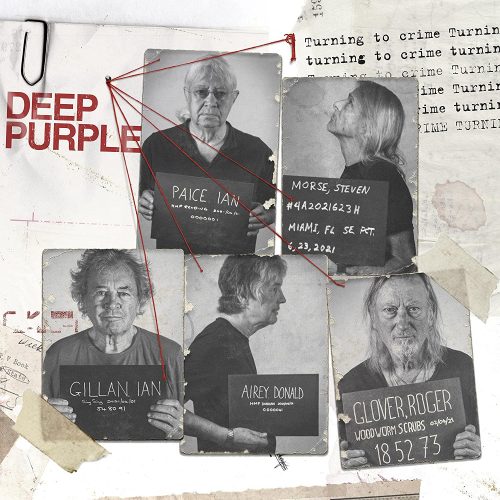 It's still 3 more days to the announcement from the label, but with the online behemoth retailer listing up, it's pretty much as good as official — the new Deep Purple album will be called Turning to Crime, it will be an album of covers, and it will be released on November 26, 2021, on CD and 2LP.
Some of you have already surmised, and the promo blurb confirms that it is an album of covers because the the band were unable to get together at the same place at the same time, jam, and write new material due to you-know-what happening in this world for the past 20 months or so. Recording for the album had to be done remotely, from wherever they've been sheltering from the pandemic individually (which is probably 3 or 4 different countries).
After five decades of records made chiefly of original material, Deep Purple's 22nd studio album consists solely of songs written and previously recorded by other artists: a criminal offense commonly described by the rock police and purists Grand Jury as "doing covers." Studio recordings of songs previously released by Love, Huey "Piano" Smith, Fleetwood Mac, Mitch Ryder & the Detroit Wheels, Bob Dylan, Ray Charles & Quincy Jones, Little Feat, The Yardbirds, Lonnie Donegan/ Johnny Horton, Bob Seger System, Cream, plus the "Caught In The Act" medley feat. songs by Freddie King, Booker T. and the M.G.'s, The Allman Brothers Band, Led Zeppelin and The Spencer Davis Group came to life with the band, for the first time in their career, recording them while not being in the same room. "Turning To Crime" is Deep Purple enjoying playing music without commercial plans nor losing their edge and drive. This is Deep Purple coming full circle. This is 100% Deep Purple.
Track list:
7 And 7 Is (Love)
Rockin' Pneumonia And The Boogie Woogie Flu (Huey "Piano" Smith)
Oh Well (Fleetwood Mac)
Jenny Take A Ride! (Mitch Ryder & the Detroit Wheels)
Watching The River Flow (Bob Dylan)
Let The Good Times Roll (Ray Charles & Quincy Jones)
Dixie Chicken (Little Feat)
Shapes Of Things (The Yardbirds)
The Battle Of New Orleans (Lonnie Donegan/Johnny Horton)
Lucifer (Bob Seger System)
White Room (Cream)
Caught In The Act medley:

Going Down (Freddie King)
Green Onions (Booker T. and the M.G.'s)
Hot 'Lanta (The Allman Brothers Band)
Dazed and Confused (Led Zeppelin)
Gimme Some Lovin' (The Spencer Davis Group)
Our criminal playlist has been updated with respect to the Medley.
Thanks to Scott Mcnay for the heads up.