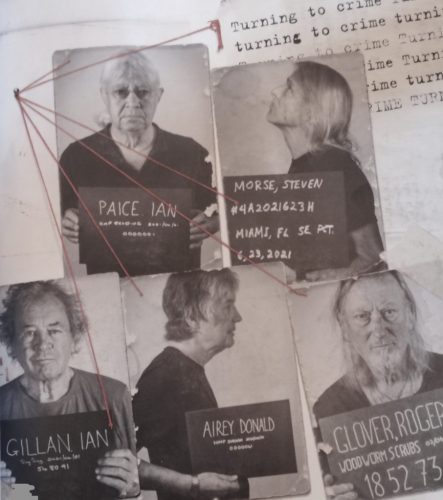 Various members of the band said in the interviews that all thing permitting they would like to go to the studio some time this summer. Check.
There have been a conspicuous silence from the band's camp in the recent weeks/months. Check.
Someone has leaked today the collage you see above. Check.
The turningtocrime.com domain has been anonymously registered on July 30, 2021, with a German provider. It is now being redirected to a not (yet?) existing page on the record company website. The same company that has a track record of whimsical promotion campaigns. Check.
Those are the facts that we know.
[Update Sep 1]: Said page on the record company website has gone live and now contains a countdown to something happening at 16:01 CET on October 6, 2021.
Thanks to Darker Than Blue for the image, that they in turn attribute to Mathieu Pinard / Rock Hard magazine.