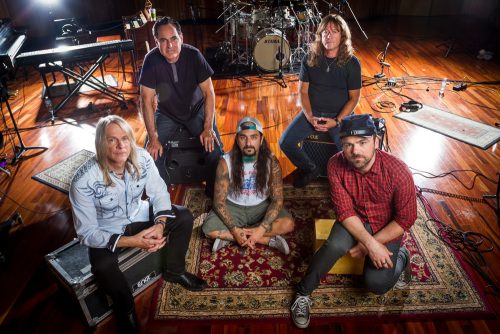 Taking advantage of the forced downtime (and probably trying to make up for some of the income lost due to no touring), Flying Colors will be holding an online event called Backstage Summit on May 5-8, 2020. It's not quite a live performance, but more of a Q&A session with the band and a songwriting workshop where you can also submit your own music for review and critique.
Prepare for an in depth up close and personal time where the band covers everything from how to write songs to what happened in 1973! You can ask questions, respond, and participate on an unprecedented level. Here is the current schedule (each session is 1 – 1.5hrs in length):

Tuesday | May 5th | 1:00pm EST | 7:00pm CET – Casey McPherson
Wednesday | May 6th | 1:00pm EST | 7:00pm CET – Mike Portnoy and Neal Morse
Thursday | May 7th | 1:00pm EST | 7:00pm CET – Steve Morse and Dave LaRue
Friday | May 8th | 1:00pm EST | 7:00pm CET – Full band Songwriting Session Live!
Tickets are $75 for all 4 sessions, available through the website set up specifically for that purpose.