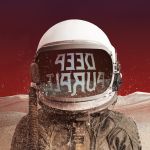 A limited edition 10″ single from the upcoming Whoosh! will be released on April 18 June 20 in conjunction with the German Record Store Day. The content of the single is still a mystery at the time of this writing, and all we have for the cover art is this low resolution image. The single will be available in Germany, Austria, and Switzerland.
[Update March 13] The 2020 Record Store Day was originally scheduled for April 18, but has been postponed to June 20 due to to the COVID-19 (Coronavirus) outbreak.
Thanks to Jörg and dirie for the heads up.