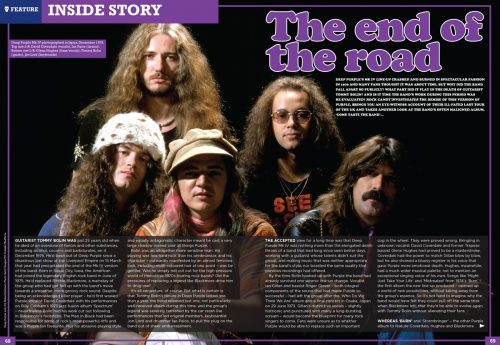 Rock Candy magazine has a 4-page spread on Deep Purple Mark 4 in their February-March 2018 issue.
DEEP PURPLE'S MK IV LINE-UP CRASHED AND BURNED IN SPECTACULAR FASHION IN 1976 AND MANY FANS THOUGHT IT WAS ABOUT TIME. BUT WHY DID THE BAND FALL APART SO PUBLICLY? WHAT PART DID IT PLAY IN THE DEATH OF GUITARIST TOMMY BOLIN? AND IS IT TIME THE BAND'S WORK DURING THIS PERIOD WAS RE-EVALUATED? ROCK CANDY INVESTIGATES THE DEMISE OF THIS VERSION OF PURPLE, BRINGS YOU AN EYE-WITNESS ACCOUNT OF THEIR ILL-FATED LAST TOUR OF THE UK AND TAKES ANOTHER LOOK AT THE BAND'S OFTEN MALIGNED ALBUM, 'COME TASTE THE BAND'…
The full article is available online as a PDF file or you can purchase the issue in question.
Thanks to Benny Holmström for the info.