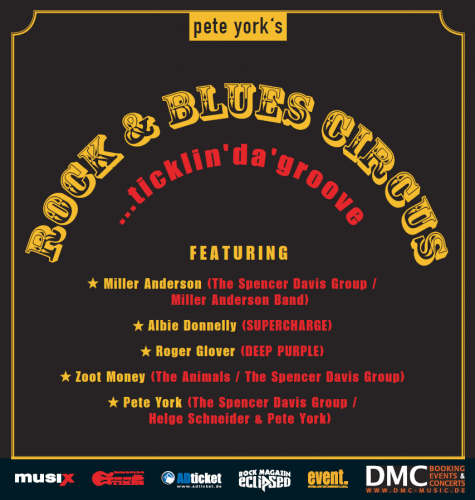 There are 8 dates in Germany announced towards the ends of this year for an outfit called Pete York's Rock and Blues Circus doing a Ticklin´da´Groove tour. Said circus consists of Pete York himself, our own Roger Glover, plus Miller Anderson, Zoot Money, and Albie Donnelly.

Quote from Pete York:
This is for me a dream combination of highly individual musicians and dear friends who I have known for many years. To be on the road with them all will be a joy, not only because we all feel the music in much the same way but also because I'm sure I will die laughing, which is not a bad way to go.

We're not heavy metal and we're not hipping and hopping but we do know the roots of rock'roll and the real R & B. We all love the New Orleans funk feel and our rhythm is not so much slammin' as strokin' if you get my drift. I think this band could play any style in our own way and we will do so on our show.

And if you want to know what Ticklin' Da Groove is all about, come along and let us Tickle Your Groove. You'll love it.
Full details in our calendar.
Thanks to Yvonne and to Lutz Reinert for the info.