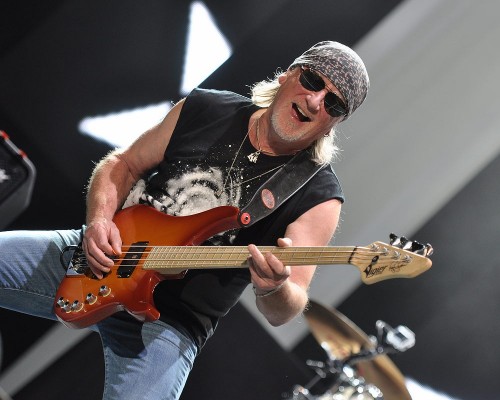 Back in July Sverige Radio published an interview with Roger glover, done at his home in Switzerland. Roger baked a banana bread and talked about what he wants to do when he grows up. The interview itself is in English and starts about 2'15" into the clip.
Bonus: Roger's banana bread recipe
1.25 dl butter
2.5 dl sugar
2 eggs
3-4 ripe bananas
3.5 dl wheat flour (he used whole wheat)
1 teaspoon baking soda
1/2 teaspoon vanilla extract
1/2 teaspoon salt
Preheat oven to 175C.
Mash bananas in a bowl, add butter warmed to the room temperature, eggs and sugar. Mix well. Add flour and baking soda and mix to a smooth paste. Add vanilla extract. You can also add crushed walnuts or other nuts and stir. Pour the batter into a greased baking pan and bake 40-50 minutes in the middle of the oven. Probe with a stick towards the end of baking. The bread is ready when the stick is dry. Allow to cool and remove bread from the pan.
ps. 1 dl = 100 ml = 3.4 fl oz
Enjoy!
Thanks to Yvonne for the info.