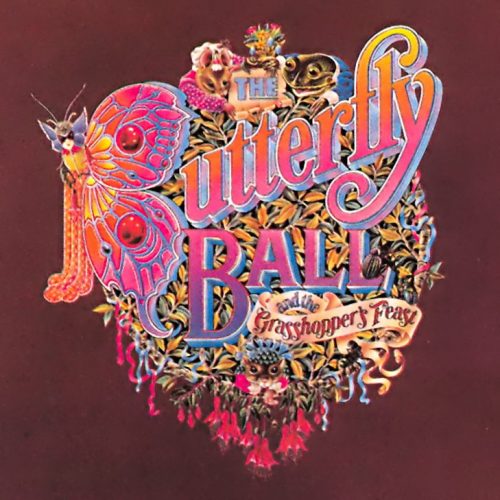 A PledgeMusic campaign is underway to raise funds for reissuing Butterfly Ball & The Grasshopper's Feast:
The Butterfly Ball and the Grasshopper's Feast is a concept album and subsequent live rock opera appearing in 1974 and 1975 respectively, based on the children's poem of a similar title.

The work was originally conceived as a solo vehicle for Jon Lord to be produced by Roger Glover who had recently left Deep Purple. However, Lord proved too busy with Deep Purple and Glover took up the reins on his own. Using his connections, Glover recruited a large cast of noted rock musicians to perform on it, with a different vocalist for each character, including David Coverdale and Glenn Hughes.
On 16 October 1975, a one-off performance at the Royal Albert Hall took place. Again it had a star-studded cast of rock musicians, most notably Ian Gillan who was drafted in at the last minute and received a standing ovation on his entrance. He replaced an unavailable Ronnie James Dio who had commitments with Ritchie Blackmore's Rainbow (although Dio did eventually get to perform the song at the Royal Albert Hall in 1999 as the guest of Deep Purple). Gillan had not performed since leaving Deep Purple in 1973. Also notable was the appearance of Twiggy as singer and actress and Vincent Price as narrator. Apart from most of the musicians involved in the studio recording, the concert also featured Jon Lord. The live concert was filmed and released in 1976 produced and directed by Tony Klinger.

Tony Klinger is thrilled with the quality of the creation of this Limited Edition Deluxe Edition Box Set which includes Double DVD (original film + 2017, re-edit, remaster), a Double CD (never released before), Reproduction Press Pack, 5 × 10″x 8″ glossy promotional photos, A3 reproduction Film Poster. Each Box will contain a number certificate signed by Tony Klinger.

Box Set Content

Double DVD (original film + 2017, re-edit, remaster)
Live Double CD (never released before)
Reproduction Press Pack
5 × 10″x 8″ glossy promotional photos
A3 reproduction Film Poster (different to the poster which we are offering for sale)
Signed and number certificate.

There will only be 250 Boxes manufactured.
There's one little correction to the above, though:
The film was released in March 1977 (not in 1976) and premiered at the Odeon in Chelsea on 20th March.
The box set is available at £99.99, plus there's a variety of formats and merchandise to satisfy all tastes and budgets.
A Region 1 DVD was released back in 2006, is now out of print, and new copies are fetching upwards of $80 on the market.
Thanks to Nigel Young for the heads up and the correction.