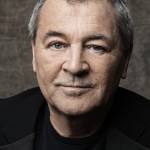 Ian Gillan recently spoke to AntiHero Magazine, with proceeds of the interview posted a few days ago. The interview appears to have been arranged to promote the Gillan vinyl box. The slightly offbeat conversation turned to the new Purple album about halfway through, when Big Ian mentioned that he "heard it for the first time yesterday" (final mix, presumably). He proceeded to elaborate the creative process:
I just wondered then as it immediately leads me on to the next question. Do you have to write in a particular mindset for Deep Purple or for yourself? Do you have to approach writing in different forms, different ways?

Yes, absolutely. Deep Purple was different than any other kind of writing I do with other people. Deep Purple is primarily an instrumental band. Primarily an instrumental band and the routine is, we book a running finish in 10 days, generally in a studio somewhere and the guys come in at noon. They start jamming and they work till 6 o'clock, take a break at 3 for a cup of tea and then do that every day. Roger and I listen to the music and clock out the occasional bit and think that might be okay for a tune on the album or something. Then we start refocusing on making arrangements and how to develop the song. Then when it is all tucked away I start thinking about the lyrics and the tunes. There is no point before they get literally torn up every day because everything changes every day. There's no shortage of things to write about lyrically. There is no point trying to create a tune on something that's going to change in a couple of hours. That's how it worked with Purple. This is primarily an instrumental band. I just climb on board and write it along.
He also mentioned that he "heard [the album is] coming out in February".
Read the whole thing in the AntiHero Magazine.
Thanks to BraveWords for the info.