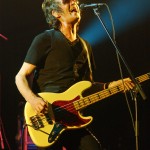 A small town newspaper from Michigan has an interview with Glenn Hughes on the occasion of his gig later this month.
The Enquirer: Matt Hires asks, "what's the last album you listened to?"

Hughes: I have to be honest with you. I'm listening to my album right now because I'm mastering it.

That's OK.

I need you to know I'm a fan of other people's work but I can't lie to you. I'm sequencing my album this week.

Other than that, I'd probably say outside of my work, the last album I listened to would have been Steely Dan.

Are you keeping up with newer bands?

It's a difficult question for me because I don't really know what is going on in the music world other than what I'm doing. I read magazines and I read up on stuff but I don't really listen to radio.

If somebody said to me, 'have you checked out this band,' I'll go, 'no,' and I'll write it down, and I'll go home and I will listen to it. But I haven't heard anything that's blown my mind in a while.
Continue reading in the Battle Creek Enquirer.