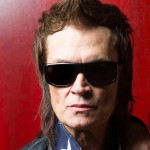 A Glenn Hughes' interview will be on the air this Sunday on the Rock City Radio Show Berlin. The interview is from November 23 when California Breed played in Berlin. The presentation of the show is in German, but Glenn is not overvoiced. The part with Glenn is about 45 minutes long (including music).
The show will be on the air on Sunday, January 18, between 17:00 and 18:00 CET. The show can be listened online and worldwide at alex-berlin.de. Check that page for other ways to listen as well.
[Update Jan 22] The show is now available for listening on Soundcloud:

Thanks to Jens for the info.