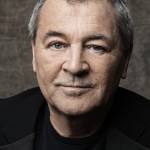 For his efforts in rebuilding the musical school in Armenia, Ian Gillan has been named Friend of the Armenians 2014 by the Eastern Diocese of Armenian Church in America.
He will be presented with the award at the 112th Diocesan Assembly in New York City. The presentation will be made during the assembly's gala banquet on Friday evening, May 2, starting at 7 p.m., at Haik and Alice Kavookjian Auditorium of the Diocesan Complex. For information on the banquet, contact Lorraine Marootian at (201) 560-1482.
Thanks to the Armenian Church of America and Yvonne Osthausen for the info.