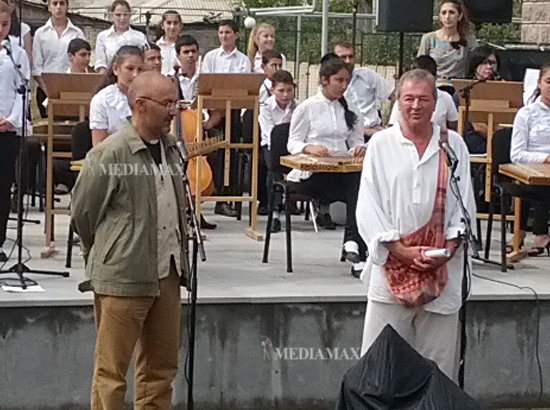 [Updated Sep 26] Earlier today, September 20, Ian and Bron Gillan were the guests of honour at the grand opening of the music school in Gyumri, Armenia. This is the very school rebuilding which was the main focus of Big Ian's recent WhoCares project with Toni Iommi. Well done, gentlemen!
At the press conference the night before, Gillan also mentioned a possibility of starting an album with Tony Iommi. Although we at the THS ivory towers remain sceptical as between Sabbath reunion and his cancer treatment Iommi kinda has his hands full at the moment.
Read and see the coverage of Gillan's visit to Armenia from Mediamax: press conference, school opening.
[Update] Photo gallery: Gillan's three days in Armenia. Check out the cake!
Thanks to BraveWords for the heads up.