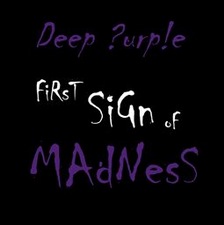 "Somebody tell me why I'm talking to myself, I never listen to a word I sing, nor does anyone else."
The opening lines of First Sign of Madness set the tone for a straight forward rock'n'roll track complete with boogie piano.
This Deep Purple song is available exclusively to German fans as a download from Media Markt's website – either for free with a voucher from NOW What?! purchased at one of their stores, or for €0.99. They do however only accept German credit cards…
The track itself is a bit of up-tempo fun, possibly a little more light hearted than the rest of NOW What?! – and thus works wonderfully as a bonus feature.
More than just a throw away jam session, it features intense breaks, a storming piano solo from Don Airey and one of Steve Morse's signature guitar solos.
"Rambling on again, no one's listening, all in all again, don't believe a single word," sings Ian Gillan in the chorus.
Word from earMUSIC is that the track will surely be made available outside Germany in some shape or form – details will be revealed soon.
If in Germany, download/buy First Sign of Madness here.