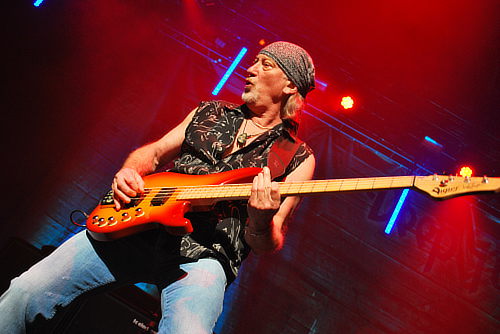 Roger Glover chats with Martin Popoff about musical blitzkriegs, styles, sonics, prolific players, dull strings, abrasive admirals, leaping out, and being easy to get along with:
DEEP PURPLE's first platter in eight years, NOW What?!, began life on the internet with a light advance track called 'All The Time In The World', one that had the mighty Purple eaters of the world bickering with stomachs grumbling.

You'd have to ask the record company that. Yeah, it wouldn't have been my choice. But then again, 'Smoke On The Water' wasn't my choice either. I know nothing about that. I know nothing about the selling of music. They felt, I guess, that 'All The Time In The World' would get play on the softer stations, the Radio 2s of the world, or… I don't know; I don't know what their plan was. They're a great company and they really believe in this record and I can't remember… I thought to myself, how did they come to that decision? And I can only think that they had a meeting of all the staff and said, 'Right, what are your feelings?' I have no idea. I thought at first, you know, that's not a good thing to put out. But then I thought, it's certainly going to make the album much more of a blitzkrieg when it does come out.
Read more on BraveWords.