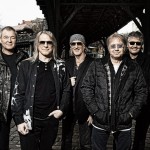 (Updated Apr 23) Deep Purple are scheduled to appear on German late night comedy show TV Total this Wednesday, April 24. We don´t have any details about the taping and if there are any tickets left but the broadcast will start at around 11 pm CET on German private TV channel Pro Sieben.
This time they will perform All The Time In The World. This show generally has no mimed performances, so they are most definitely going to perform the song live in the studio. We don´t know if there will be any interview with the band but our guess is not, as live performances are usually near the end of the show without any interviews (except the host personally thanking the guys).
After the first airing the whole show, as well as clips from live performance, should be available for viewing online at their website (look under 'Mittwoch 24. April').
The band have already performed on TV Total in 2005 (Clearly Quite Absurd Rapture of the Deep and Smoke on the Water with Michael Bradford standing in for Steve Morse).
The same day, April 24th, the band will also appear on the morning show Morgenmagazin which starts at 5:30 (yawn) and is aired on ARD and ZDF.
After these TV appearances the band will be in Berlin from April 26 to 28 to shoot a video (and undoubtedly, do more publicity).
Thanks to Milan Fahrnholz, Yvonne Osthausen, and Burkee PR for the info.