The last time there was this long a gap between Deep Purple studio albums was in the period 1976 – 1984. Back then Amazon was the forest which no doubt provided the cardboard for the record sleeve, not the company you most likely bought the cd from!
In the days preceding the release of Perfect Strangers, there was a playback and radio interview on BBC Radio 1, which we all recorded and listened to before running out on the Monday morning to get the record.
Today, with the release only a few days away we are lucky enough to receive an advance copy in the post, although if we lived in Denmark, where calendars are different…….
I recall in the early listens of Perfect Strangers that actually I wasn't that sure about the album. A bit too Rainbow if you like… No such worries now. This is assuredly the most Deep Purple album I think I have heard in a long time!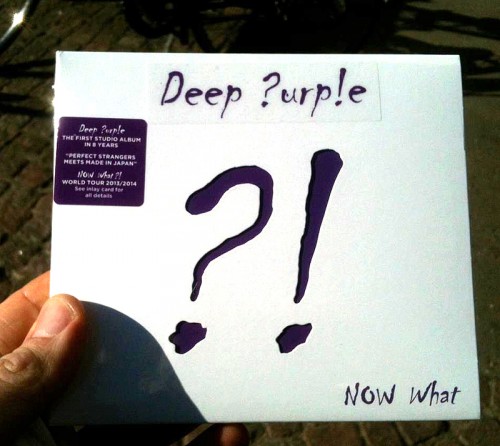 The sound is BIG. Actually I've had to turn the subwoofer down a bit, rather than the volume down… rattling ornaments were getting a bit annoying, but this will sound fantastic over headphones, or in the car, which is likely how it will most often be listened to.
Starting gently with 'A Simple Song', the experience is like being gently lulled into a false sense of security, before BLAM! and we're off. This song by itself is almost worth the wait, but very quickly you realise it's not a one-off, "Weirdestan" follows, with almost Colin Towns-like keyboard sections.
And a lack of overly fussy guitar solos. The riffing is great, and the interplay between guitar and keyboards is fantastic. At times the keys are reminiscent of Jon, at others perhaps Keith Emerson.
Obviously the spirit of Jon is felt throughout, and indeed the album itself is dedicated to the much missed founding father of the band.
But, despite Gillan himself saying he didn't do much with this album, except the singing and the songs, the feeling is of adventure, of a band experimenting in a way that perhaps hasn't happened in the Purple family since the Gillan Band days.
I find myself wanting to tell you about every nuance, but at the same time, sorry guys. You need to hear this to believe it.
You'll have All The Time In The World!