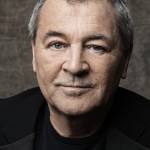 Looks like the PR gates have opened and the promotional flood for the new album is upon us.
Ian Gillan gave an interview to the Ultimate Classic Rock:
How did you arrive at 'Hell To Pay' as the first single from this album?

Well believe me, it wasn't my choice. We haven't got a clue about what should be focused on or anything else. There were two tracks I think, that they wanted to select, probably the start of the record label debating. I guess that half of them wanted a slow one and half of them wanted a rock song, so 'Hell To Pay' was their choice.

I think we're shooting a video in Berlin in a couple of weeks for another song entirely, a song called 'Vincent Price,' as far as I know. So I think this is just a taster, this single and they work for me, but I wouldn't know where to start.
Read more in Ultimate Classic Rock.
Gillan also spoke to Rhode Island radio station 94HJY:
Thanks to Andrey Gusenkov and Blabermouth for the info.