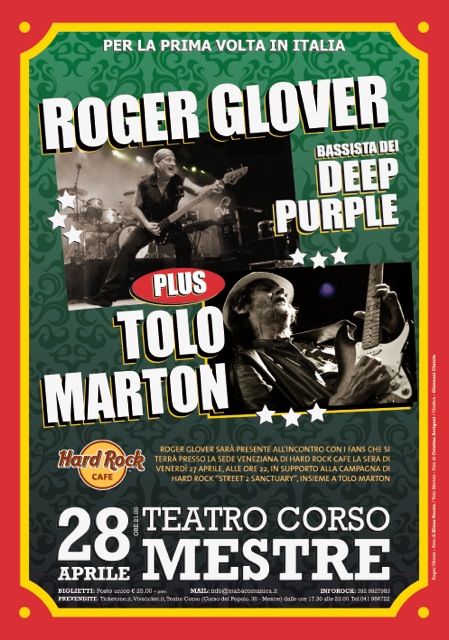 Roger Glover will support Hard Rock Cafe's "Street 2 Sanctuary" campaign to help girls forced to prostitution and their children from the streets of Bombay red light district and place them into the sanctuary and care of the Bombay Teen Challenge. Deep Purple, of course have a history with HRC Venice charity projects as in 2009 they have donated a Music Man guitar signed by all members of the band to the "Imagine There's No Hunger" raffle, which raised over €5,100.
Glover will appear at the meet and greet with the fans at the Hard Rock Cafe in Venice, Italy, on April 27. The event starts at 9pm. Address: Bacino Orseolo, 1192 (close to St. Mark Square). For more information call +3904152201513 or email venice_salescoordinator@hardrock.com.
The next day, April 28th, he will play a gig with Italian guitar player Tolo Marton at the Cinema Teatro Corso in Venice suburb Mestre-Venezia. Tickets €29 are available online (here and here) or at the venue between 5 and 9 pm. For more information call +393929927983 (English/Italian).
Thanks to Ivano Bosello for the info.