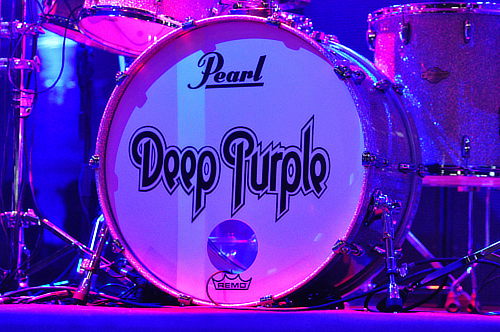 Pearl Drums will launch Ian Paice signature drum kit on April 23, coinciding with the 40th anniversary of Machine Head UK release. The kit will feature nine drums, including Masters Premium Legend Maple toms and bass drum, with the signature snare. All drums will feature "unique motif" inside and some will come in sizes unique to Ian's kit, the same way as Pearl makes them for him, not available anywhere else in the world. As well as a standard front head, the kits will come supplied with a specially designed front bass drum head, which can be fitted to the kit or wall-mounted. Each set will come with a head signed by Paice, dedicated to the individual customer. Every kit will come tuned to Paice's personal specification as well.
This will be a very limited edition as only 12 kits will be produced. The kits will be unveiled at the Drumwright in UK. The twelve customers who buy one of these sets will also be invited to a private dinner with Paice at The Crooked Billet in Henley-on-Thames, UK.
To get a free ticket to the launch, send an email headed "IP Launch" together with your name and address to enquiries@drumwright.co.uk.
Thanks to Music Instrument Professional and Drumwright for the info.