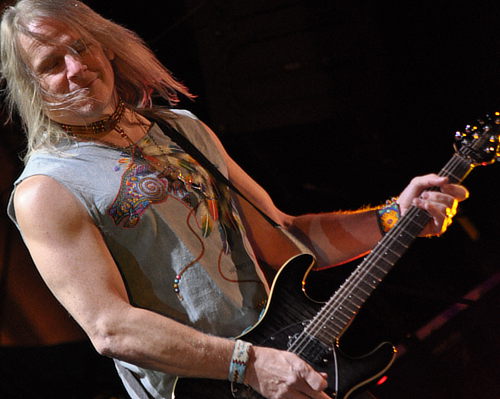 While in New York, Steve Morse spoke to Joe Bosso of Music Radar with the extensive interview now appearing on their web site:
The band is currently working on a new record. How far along are you with things?

We've got the music pretty mapped out for the majority of the recording. The goal on this album isn't to stretch out to new heights; it's more about revisiting the roots – riff-oriented blues rock. Heavy stuff, you know?

I know you said the band encouraged you to be yourself on stage, but when writing with the group, is the atmosphere the same?

No, writing for Deep Purple is much different than playing with them on stage, and it's very different from writing for a Steve Morse solo album. I think it's good for musicians to understand the particular situation they're in and what's expected of them. The band wants me to come up with lots of ideas, the vast majority of which never get used.

My way of doing that has been a bit of a shotgun approach: I just hit them with tons of ideas and see what really sticks. One thing I like to do – and I've encouraged the rest of the guys to do this, too – is to only bring in snippets of things, not finished tunes, because people might only like this bit or that bit. They might not like an entire song. Giving them sections is a cool way for everybody to contribute and truly make a song 'Deep Purple.'
Read more in Music Radar. There's lots more and it's interesting stuff.
Thanks to BraveWords for the info.