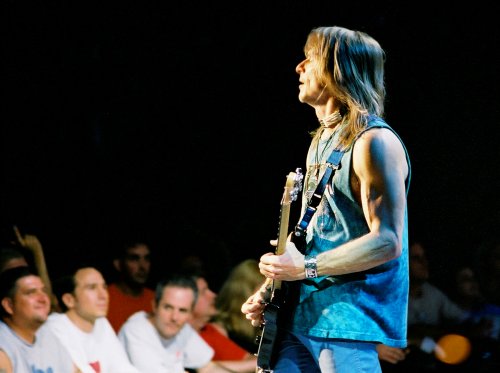 In anticipation of the June 11 gig in Atlantic City, NJ.com has an interview with Steve Morse:
Steve Morse's idea of a week off from touring as part of the rock band Deep Purple?

Putting in 18-hour days at his Florida hay farm.

"I am arranging to do a little cutting" of the hay, Morse offered. "I have to fix the flatbed dump" truck and there are assorted parts to order for some of the farm machinery.

"I go to work (with Deep Purple) to relax."
Regarding (lack of) a new album:
"We are sort of set up for it," Morse said of a new recording, one he offered would "keep to the band's roots" of blues-influenced heavy rock. But no recording dates have been set up.

"A (new) recording for a band like Deep Purple is like charity," Morse suggested. "There is no compelling business reason."

Factor in the cost of a new album and the marketing costs with the return and "it is a wash," he said.

What about slipping in a new song here and there on tour?

"We used to do that. You Tube has derailed that concept. The first time you do a new song, it's immediately pushed out on You Tube."
Read more at NJ.com.