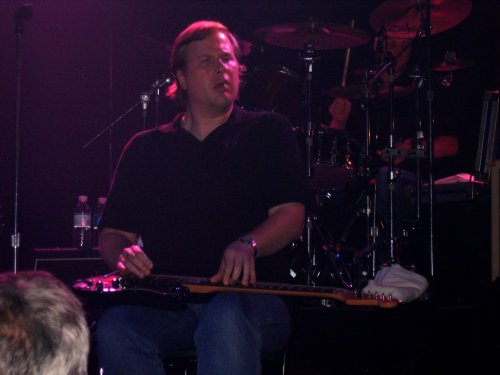 Jeff Healey tribute concert was held on May 3. Ian Gillan, Jeff Beck, Randy Bachman, David Wilcox, Colin James, and Alannah Myles were among the musicians who performed at the Sound Academy in Toronto, Canada.
Glen Miller reports:
Well, they saved the best for last as Gillan was the last major artist to come on stage for the Jeff Healey tribute last night before most of the musicians came back on stage for the grand finale to play Healey's See The Light.

IG played 5 songs: Highway Star, Lazy, When A Blind Man Cries, Sugar Plumb and Smoke On The Water. While the music was very good, it was an exercise in survival for the sold-out crowd of 2,600 as the show lasted from 7 p.m. (beginning with a half hour of video clips of Jeff in concert, to the music beginning at 7:30 p.m. and the show lasting until 1:45 a.m.!!!
I may have set my own personal record of standing at a show as there were no chairs.

Also, it had to be one of the latest times in recent memory that IG had to come on stage — 1 a.m. He was supposed to be on at 12:05 a.m, but things fell behind
schedule-wise.

Anyway, Mr. Healey would have been proud.
Proceeds from the concert went to Daisy's Eye Cancer Fund and Healey Family Trust.
The show was recorded and will be broadcast by CBC Radio 2 in July.
Thanks to Glen Miller and CBC.ca for the info.