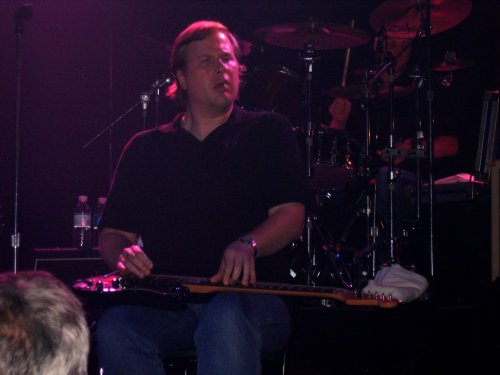 Bad news in the family.

Canadian blues guitarist Jeff Healey has lost his lifelong battle with cancer. He was 41. Jeff's uniquely emotional playing earned him respect and admiration from fans and musicians around the globe. For the last few years he had been in ailing health and was a resident player at his blues club in downtown Toronto. He guested on Gillan's Inn album and when the tour hit the city, came on stage to play on Sugar Plum and When a Blind Man Cries. Jeff knew first hand what the latter song is all about as he lost his eyesight as a child to a rare form of retinal cancer.
Wolf Schneider remembers:
I remember seeing him years and years ago when he was a teenage kid, getting led up onstage by his girlfriend to play a short opening set before a Tres Hombres (they were a ZZ Top tribute act in the early 80's) show at Larry's Hideaway, and my first reaction was huh, he's certainly holding that guitar weirdly; my second was to pick my jaw up off the floor and pay full attention to what he was putting down. Just like with Jimmy Bowskill 20 years later, you knew you were witnessing amazing talent at an astoundingly young age, and i knew at that moment he had one hell of a career ahead of him.
Thanks to Glenn Miller, Tom Jory and Mark Brazeau for the info.
PS. Here are a few more bits and pieces of the magic that was a guitar on Jeff Healey's lap:
http://www.youtube.com/watch?v=MJh3KaIKDAw
http://www.youtube.com/watch?v=XqU9RZqvFKY
http://www.youtube.com/watch?v=rIZywo3PBTE
http://www.youtube.com/watch?v=1xykErHeSu0
http://www.youtube.com/watch?v=rBBCJ68mC4c
You know, after watching all this you don't need to know him to find what kind of person he is. His music speaks for him. He was one of those people about whom Leo Tolstoy wrote "he was too good to live". Rest in peace, Jeff. You're in rock'n'roll heaven now, jamming with Jimi Hendrix, Jim Morrison, George Harrison and SRV…