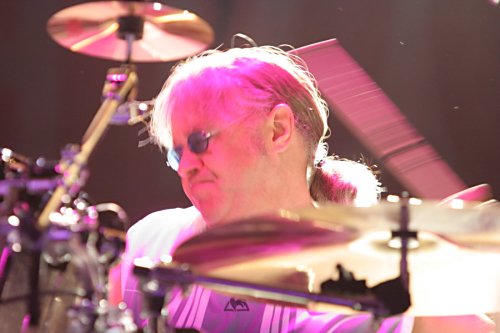 Ian Paice will appear at the Pearl Day which will be held on Sunday, June 1 at the East Midlands Conference Centre in Nottingham, UK. Apart from Paicey, guests will include Jerry Brown (Girls Aloud, Will Young), Mark Brzezecki (Big Country, Procul Harum, The Cult, Pete Townshend), Jimmy Degrasso (Alice Cooper, Ozzy Osbourne, Megadeth, Suicidal Tendencies), Darrin Mooney (Primal Scream), and Dan Foord (Silth).
Pearl Day, featuring the largest single exhibition of drum products in the UK, also includes percussion workshops by Lea Mullen, specialist in Samba and Latin and a demonstration by the 37th Kingswood Drum Corp. Visitors can try out products in the "sound test area".
Tickets are £18 (or £9 for under 12 and OAPs). For more information visit http://www.pearldrum.com/.
Pear is running a contest with the following prizes: winner will get a Pearl Snare drum signed by the event guests, a T-Shirt and a pair of tickets to Pearl Day 2008. One runner-up will win a pair of tickets and a T-shirt with the second runner-up winning two tickets.
To enter answer this: How many years has Ian Paice been a member of Deep Purple?
a) 40
b) 35
c) 25
E-mail your answers by 9am on May 23, including your name, full address, mobile number and e-mail address, to: features@nottinghameveningpost.co.uk. Mark your entries Pearl @ EG. You can also post entries to: Pearl @ EG, Features, Evening Post, Castle Wharf House, Nottingham NG1 7EU.
Thanks to Mike Garrett for the info.