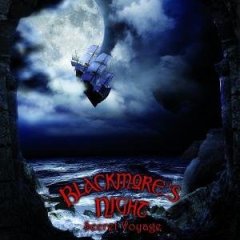 The new Blackmore's Night album is around the corner. It's called Secret Voyage and will be released via SPV in Germany on June 27, the rest of Europe on June 30, and USA/Canada on July 15. The album will include 12 tracks:
01. God Save The Keg
02. Locked Within The Crystal Ball
03. Gilded Cage
04. Toast To Tomorrow
05. Prince Waldeck's Galliard
06. Rainbow Eyes
07. The Circle
08. Sister Gypsy
09. Can't Help Falling In Love
10. Peasant's Promise
11. Far Far Away
12. Empty Words
The record company has posted a track-by-track commentary from Candice Night and album preview clips.
Correction [May 12]: The North American release date will be July 15 and not June 15 as we reported earlier.
Thanks to Blabbermouth.net, Daniel Bengtsson, Pal17 and Mike Garrett for the info.