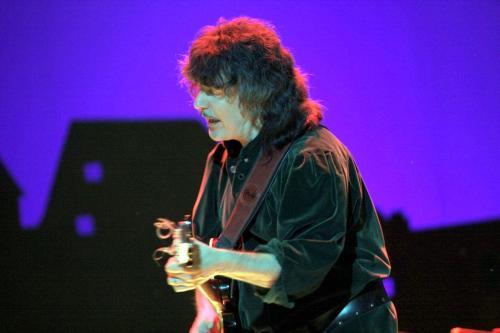 Metal Edge magazine has reprinted online a Ritchie Blackmore interview from February 1997. It goes from the heat of the moment to some timeless advice.
What do you love most about the guitar?

Blackmore: Its shape. The guitar for me, when I was about 11, I was very introverted and I wanted something to relate to. I found I could express myself through it.

Did it bring you out of your shell?

Blackmore: Yes and no, I just went more into my shell with my guitar. Then I'd go onstage and be an extrovert.

Was that scary, the first time onstage?

Blackmore: Yeah, that's when I'd start drinking. I still get nervous, as to whether I can pull out the sounds I want to hear and I get aggravated sometimes if we're playing places where the acoustics aren't right or the band isn't playing well. It's very hard for me to say, "another dollar, another day," unlike some people I know. You can only just cross your fingers and hope for the best. You never get a perfect show. You can come close, but there are too many variables. The electricity can go off or a string will break. But the audience is a lot more tolerant than I would think.
Read more in Metal Edge.