While performing for two nights in Moscow, Glenn Hughes was interviewed by TASS (now, there's an agency that is an oxymoron). He claimed that the current band tried to stop him from performing the "Classic Deep Purple Live" tour.
The Deep Purple you know of with Gillan, Glover and Paice are very upset with me because I'm doing this. They are upset that Glenn Hughes is doing this show but Glenn Hughes is the writer of these songs. He is not calling it "Glenn Hughes' Deep Purple", he is calling it "Glenn Hughes performs Deep Purple". They have tried legally to stop me and they can't. The songs I'm doing, they don't do. The songs that I am doing, fans around the world want to hear. They can be as mean as they want I am smiling and…I'm not going to stop.
Now, we obviously do not know what happened there, so everything you read below is a pure speculation.
We are pretty sure that Messrs Gillan, Glover, and Paice don't give a particularly big damn as to what and how Mr. Hughes is performing. Their management, on the other hand, might take an issue about promoting the tour in a way like this: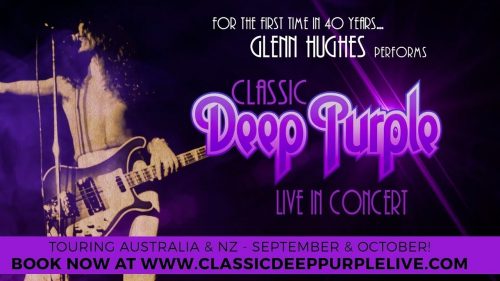 Keeping in mind that the current band has been extensively using the very same logo during the past 20 years or so, this may or may not confuse the punters as to who exactly is performing.
Here endeth the speculation.
Thanks to BraveWords for the info.