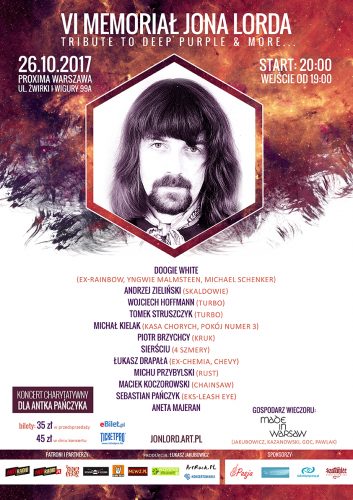 The sixth Jon Lord memorial concert will be held in Warsaw, Poland, on October 26. This year Doogie White will be a special guest of the event. He will be joined on stage by a variety of local musicians, including Polish heavy metal band Turbo and keyboard player Andrzej Zieliński from Skaldowie.
This will be a charity event — proceeds will go to the benefit of Antek Pańczyk, a 6 year old boy with spinal muscular atrophy. His dad will also perform on stage.
What: VI Jon Lord memorial concert
When: October 26, 2017, at 20:00
Where: Klub Proxima, ul. Żwirki i Wigury 99, 00-001 Warszawa, Poland
Tickets: ticketpro.pl and ebilet.pl.
And once you are at it, be sure to check out Child in Time from the last year event with Tomek Struszczyk on the vocals:
Thanks to Łukasz Jakubowicz for the info.