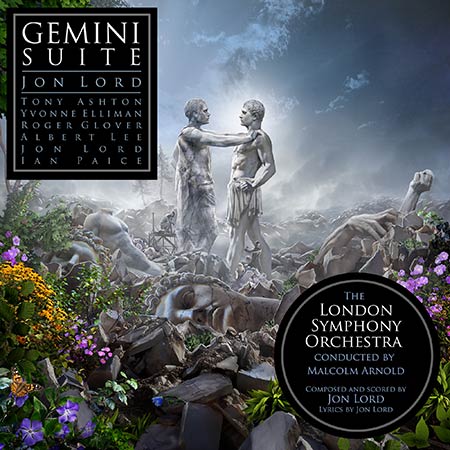 Back in 1969, the lineup of DEEP PURPLE had seen a drastic change: Jon Lord, Ritchie Blackmore and Ian Paice split up with singer Rod Evans and bass player Nick Simper and hired the former EPISODE SIX musicians Ian Gillan and Roger Glover to complete the lineup.
One of the first shows to feature the new lineup was the live performance of Jon Lord's "Concerto For Group and Orchestra", an ambitious work to unite the different worlds of a rock band and a full orchestra which lay the foundation for Jon Lords career as composer / writer and solo artist. About a year later, the follow-up of the "Concerto" faced the light of day during a live performance at the Royal Festival Hall, again featuring his DEEP PURPLE bandmates and conductor Malcolm Arnold.
Contrary to the "Concerto", which took more than 40 years to be recorded in a studio, Jon Lord went to the studio in 1971 to record "Gemini Suite" as a studio project. At that time, the rock career of DEEP PURPLE was in full flight and Ian Gillan and Ritchie Blackmore showed no interest in participating in the recording and were replaced by guitar player Albert Lee , multi talented Tony Ashton and singer Yvonne Elliman.
While the "Concerto" had its focus on band and orchestra as a whole, "Gemini Suite" did focus on the different instruments, dedicating a track to guitar, piano, drums, vocals bass guitar and organ respectively.
The first CD release was a straight release in 1987 on Line Records in Germany being the only official (and now long deleted) version until the remastered release on Purple Records more than 20 years later. The 2016 release is not based on any of those previous versions and features new artwork and a new remaster by Rob Cass, based on the original stereo mixes of the album.
Not owning the 2008 remaster, a comparison with the 1987 release shows quite some improvement in sound quality with more details being audible than on the original CD release. Luckily, the remaster doesn't follow the popular trend of brick-walling every track and preserves the dynamics and overall feel of the original recording. The booklet gives no explaination why the original artwork has been dropped and was replaced by completely new design, but the new foreword by Roger Glover adds some enjoyable pages to the booklet.
Only thing to criticize is the record company did not use a proper Digipak for the release and decided to go with some LP-like fold-out papersleeve instead, resulting in your CD getting the first fingerprints and scratches before even being played.