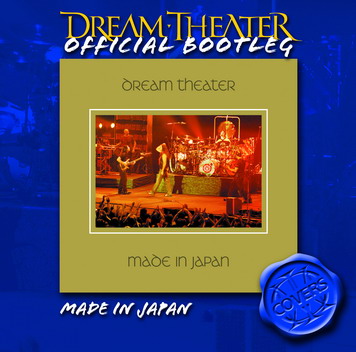 What could be better than one of my favourite bands paying hommage to another one of my favourite bands? Dream Theater are known to occasionally perform classic albums by other bands live on stage in their entirety: Master of Puppets, Dark Side of the Moon and Number of the Beast among them. They also make a point of recording these unique performances and issue them as official bootlegs via their own label Ytsejam Records.
On January 13, 2006 in Tokyo and on the 15th in Osaka Dream Theater covered Purple's Made in Japan. The official release was pending for a long time, but according to the message from Mike Portnoy it will see the light of day shortly and will be sold at the merchandise booths at the upcoming Dream Theater shows. Roger Glover himself blessed the album by mixing it.
Here's a sneak peek at Dream Theater playing Purple. This is from a bootleg video "In the Land of Meungs" recorded on the same tour in Seoul, Korea. Dream Theater played a regular set that night, but they did a take on the Highway Star for the encore:
Thanks to Christophe Largeau for the release news and to Martin for spotting the clip.
UPDATE, Sep 10: the CD is now available for purchase online.