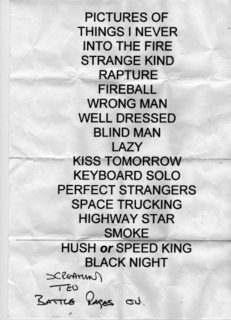 The setlist poll is closed and here are the results:
Highway Star (58%, 1,040 Votes)
Perfect Strangers (56%, 1,006 Votes)
Sometimes I Feel Like Screaming (48%, 874 Votes)
Smoke On The Water (44%, 796 Votes)
The Battle Rages On (42%, 763 Votes)
Rapture Of The Deep (41%, 746 Votes)
Knocking At Your Back Door (41%, 740 Votes)
Fireball (37%, 675 Votes)
Fools (37%, 674 Votes)
Lazy (37%, 667 Votes)
Anya (36%, 652 Votes)
Pictures Of Home (36%, 644 Votes)
Speed King (35%, 640 Votes)
Child In Time (35%, 626 Votes)
Black Night (33%, 601 Votes)
Rat Bat Blue (33%, 601 Votes)
When A Blind Man Cries (33%, 599 Votes)
Space Truckin' (30%, 534 Votes)
Strange Kind Of Woman (27%, 490 Votes)
Demon's Eye (27%, 486 Votes)

Some random thoughts on this matter:
First of all, a big thank you to everyone who voted or left comments. Your interest in the poll exceeded all our expectations. And thanks again to Martin Ashberry for the idea.
You just can't please everyone, setlist or not.
A set comprising of top 15-20 songs would be not that far off the mark from what the band is playing now. Like it or not, it seems that they give people exactly what they want.
On the other hand, 56% of those who voted would rather skip Smoke On The Water and hear something else in it's place. See #2.
Keep The Battle Rages On and bring back Sometimes I Feel Like Screaming! Also, Anya could be a nice addition to the North American tour. I remember once wearing a TBRO t-shirt to a concert in Toronto and was surprised as to how many people came over and asked if I got to see that tour.
I'm sure for many of you it was an agonising experience of selecting just 15 songs and throwing out many more. To quote Jim Corrigan:


The setlist poll is a case in point. I'm afraid it might be a big, "I told you so!" from the band. We can go on and say 15 isn't enough, or Guitar Parade isn't a song, etc. but the poll is, like many have already stated, much to our chagrin, bearing out what the band has been saying all along.

I actually had a *very* hard time picking just 15 songs. Would I like all new stuff – yes! But! Would I miss some of the old stuff? You bet! It came down to what I really like – and yes there was some older stuff in there — Fools, for example.

If the band has anywhere near the trouble picking a setlist for a tour, as it took me just to satisfy a poll (15) and myself (the songs), I truly now think they must go through some sort of musical agony coming up with what they think everyone wants to hear.
That should settle the setlist debate for now.
We are open to suggestions as to what other polls you would like to see on The Highway Star. Leave a comment below.