Last Sunday evening I attended the Edgar Winter/ Alice Cooper /Deep Purple show at the XFinity outdoor amphitheatre, about an hour's drive south of Boston, Mass. I know a lot has already been written about Purple's current USA jaunt in recent reviews here, but thought I would add my 2 cents worth of perspective just for good measure.
First up at 6:45 pm were Edgar Winter and his excellent band who played all their big hits: Free Ride; a cover of the Stones' Jumpin' Jack Flash; Rock & Roll Hootchie Koo; a great vocal call / guitar response on Tobacco Road; and Frankenstein. Edgar showed himself to be a very talented multi-instrumentalist, very impressive. 45 minutes of enjoyable, well-played musical entertainment. I was pleased to have seen Edgar perform this night, a real treat.
Next up at 8:00 pm on the dot was Alice Cooper. Lots of theatrics, showmanship and guitar-shredding; and very loud, too loud. Apart from a couple of big hits (Eighteen and School's Out), I found the rest of his show interminably long. I do however caveat my statement by the fact that I have never been a fan of Alice's music – I have never owned his records, so perhaps I am a bit biased in this department – the crowd did seem to appreciate his 70 minute show. At the end I overheard a comment from a nearby concert goer to the effect that Deep Purple would have to work very hard to top Alice's show.
Well at 9:40 pm Deep Purple arrived and brought their A-game with them. Perhaps the band had been monitoring some of the show reviews, perhaps they had settled into this particular combo-tour package format; whatever it was, they came on strong this night. Highway Star was the opener and Gillan in his Popeye T-shirt was in pretty good voice for the song. On Fireball, as others have remarked, Gillan struggled to keep up with the song's fast tempo and thereby missed a few lyrics. Purple might want to re-think whether in future, this is a good song to retain on the set list.
Next up was Strange Kind of Woman which I also think might be best retired in favour of other songs from the Purple catalogue. Though the riff and vibe of the song might be crowd pleasers, Gillan & Morse's call and response is no longer the stuff of legend. In fact I was far more impressed with Edgar Winter and his guitarist's Tobacco Road exchange – Edgar's vocal range and scat singing is stronger, as was the shredding energy of his guitarist.
One thing I noted about the show by this point was the poor quality of the sound system. Gillan's vocals though seemingly quite strong, were diminished by distortion and volume quality. I did notice something similar during Alice Cooper's show, so perhaps it's the venue's P.A. system which is the culprit. I also noted that Gillan did seem genuinely happy and smiley this evening – no curmudgeonly grumpiness as has been reported in other reviews.
On with the concert….Uncommon Man was then introduced by Gillan as "to the memory of our beloved Jon Lord". Steve Morse's guitar intro for it was a lot more raw and hard than in previous shows I have witnessed. The song then morphed into a very majestic sounding performance which was very well received by the crowd. Then came Lazy which is a song I have never generally liked all that much on record nor in concert. Tonight however I actually enjoyed how it was played – I tapped my feet and bopped to it for the first time that I can ever recall – due in part no doubt to the very good energy by the band. And again Steve's guitar seems to have taken on a more raw character, more crunch and less noodling. Perhaps his problematic wrist has forced him to alter his playing style. Whatever it is, I enjoyed his playing this evening, more so than in past shows.
Knocking at Your Back Door was the surprise this evening for me. It's the first time I have heard it at a Purple concert since the Mark 2 reunion show in Montreal in 1985. Ian Gillan's voice was great and the whole song came across very well on stage. Then came a stirring performance of The Surprising from the new album – Ian's voice was perfect on it. Next was an Airey keyboard solo which led into another strong performance by Gillan and band on Perfect Strangers.
Then in rapid-fire succession came Space Truckin', Time for Bedlam, Hush and Smoke on the Water. All well played and well received, however the band dispensed with the usual Smoke sing-along, due possibly to time constraints. Nor was there an encore performance per sé; Hush and Smoke were all rolled into one to finish the 80 minute show. Actually I have no issue with this, the standard show encore concept is really such a contrived performance vehicle these days….everybody expects it. Closing with Smoke as was done this night left the crowd happy all the same. The show ended just before the clock struck 11:00 pm.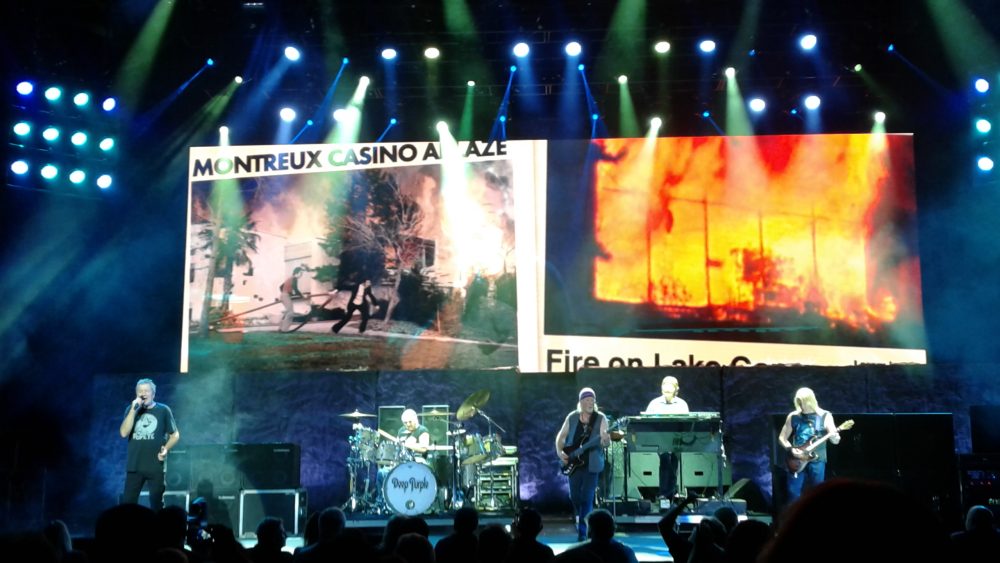 So what was different tonight versus standard Deep Purple concerts? Yes a bit shorter, a few less songs and not a lot of soloing. The only fairly lengthy solo on this night was Airey's intro to Perfect Strangers. Nor was there a drum solo by Little Ian, perhaps that's due to his recent health scare. I would however have liked to have heard more tunes from the new album, especially Birds of Prey, but that's a small gripe. The band did seem to be happy playing, even though they were restricted by time. I have attended several other Purple shows in past few years and did not feel tonight's overall performance was any less worthy than previous outings. In fact I was suitably impressed with Gillan's performances and Morse's rougher-edged guitar work. The 19,000 or so attendees at this night's event also seemed to be very appreciative of Purple's performance.
Gary Halverson, September 2nd, 2017