Rapture of the Deep's third passage in my city. We all thought that would be nothing really new besides Mary Long and The Battle Rages On, but… here it is (read the comments after the set list):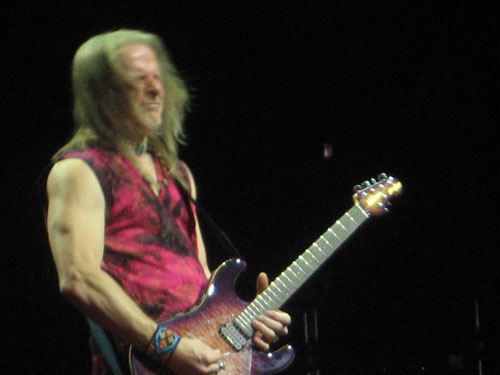 Pictures of Home
Things I Never Said
Into the Fire
Strange Kind of Woman
Rapture of the Deep
Mary Long
Kiss Tomorrow Goodbye
Contact Lost
Steve Morse Solo
Sometimes I Feel Like Screaming
Steve Morse Riff Parade
The Well Dressed Guitar
The Battle Rages On
Lazy
Don Airey Solo
Perfect Strangers
Space Truckin'
Morse/Glover Jam
Highway Star
Smoke on the Water
—-
Hush (+Ian Paice Solo)
Roger Glover Intro
Black Night
– Pictures of Home: a powerful music to start with, but the highlight was that they played the final part of CHILD IN TIME solo… I mean… that part just before it gets slow again… wonderful to hear this alive!
– Sometimes I Feel Like Screaming: this is the most successful song from Morse era here in Brasil, and the last time that was played here was 2000 at the Concerto tour. Well… just after Contact Lost and his solo, Steve Morse started his riff parade with SIFLS… the audince got crazy and Gillan came back from the back of the stage, whispered in Morse's ear and signalled for the band… so the song was played!
I think big Ian just wanted an extract for the song, but the band continued to play… the end of the song and the structure was diferent… Gillan forgot some lyrics… so the song was played in a very improvised way, but very authentic… a unique moment! I confess that I cried a little bit… That was exactly what I love in Deep Purple. Thank you guys!
Steve Morse/Roger Glover Jam before HS and Glover Intro before BN: I know these have been played for a long time… but now it's longer and more elaborated… it's fair to be listed separated at the set list!
Ian Paice solo: his solos in 2003, 2005 and 2006 were really short, but today he did a long and powerful one, just like the best days!
The Riff Parade: Sweet Child O'Mine as usual, but I got surprised to hear Crazy Train, from Ozzy… Don Airey run to play it too, but when he got at the keyboard, Morse stoped =P …Paranoid was played too!
Men In Black: I need to mention this… at some point of the show, the band (I think Big Ian) asked to get out all the security guys between the band and the audience! 🙂
Well. This was my 15th concert (not counting rehearsals in 2000) and my seventh concert with Don Airey… I can say this was the best with Don, since 2003. No doubt about it. Perfect night!
Cheers!
Marcel Vinicius
Photo by Carlos Coca Junior