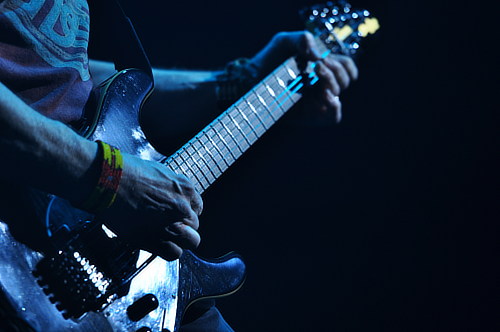 Guitar Player has an interesting interview of two monsters of the said instrument — Steve Morse and John Petrucci — talking to each other. And it's quite a bit of a mutual admiration society.
"How does anybody play guitar like that?" Dream Theater guitarist and main man John Petrucci says, recalling his reaction when he first heard the music of Steve Morse. "It was the wildest, most incredible stuff I had ever heard. There are moments that you can pinpoint and say they were truly life-changing, and for me, hearing Steve Morse play guitar was one of them."

It was the mid '80s and Petrucci was a metal-crazed high schooler and budding guitarist big on Metallica, Iron Maiden, and Ozzy Osbourne. "I spent most of my free time practicing, and I thought I was getting pretty good," he says. "I could play a lot of the stuff by my heroes pretty well."

One day, a friend's older brother gave Petrucci a mixtape of tracks by the Dixie Dregs, a band the young guitar player had vaguely heard of, along with a sage piece of advice: "You have to listen to Steve Morse."

Petrucci didn't know what to expect when he loaded the tape in his deck. The first song that came up was "The Bash," an exuberant, revved-up and rocking country jam on which Morse charges out of the gate like a bucking bronco, blitzing across the fretboard and spinning wild chicken-picking licks all over the neck while keeping pace with Allen Sloan's hyper-giddy violin lines.
"It totally blew my mind," Petrucci says. "I couldn't understand how anybody could play like that. I wasn't very familiar with bluegrass, but Steve mixed it with rock in such an exciting way. His technique and phrasing hooked me immediately."
Continue reading in the Guitar Player.