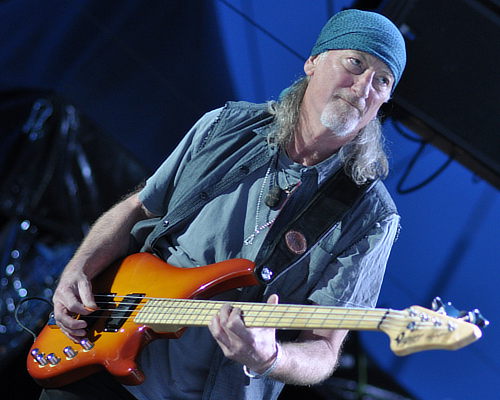 Blabbermouth has a few quotes from Roger's recent interview with Planet Rock radio regarding "turbulent time" caused by Blackmore's departure from the band.
It was surprise to me when Ritchie handed in his notice and said he didn't wanna play any more gigs after Helsinki. And we were on tour at the time. It was so difficult to take in. Somehow we were determined to carry on, if he was gonna do that. Joe Satriani was a temporary replacement, which did show us the way that we could exist without Ritchie. But I felt very strongly that you can't replace Ritchie. He is who he is, and there's no way you can replace him.

If you get someone to play like him or similar or something like that, it would have been a horrible comparison. We needed something different. And to me, the character of PURPLE always was Ritchie and Jon as instrumentalists, and they're both virtuosos. So you've gotta have a virtuoso. There's thousands of guitarists who can play, but there's very few who stand out as being very individual and different to everyone else. And I felt Steve presented that. He asked me when we first met, he said, 'What do you want from me?' I said, 'I want you to be yourself. You can't be in the band unless you're yourself, a hundred percent.' And he said, 'So I can play anything?' I said, 'Yeah. Anything will do. We'll let you know if we want it or not.'

'Purpendicular' was one of the happiest albums I've ever made, because suddenly we found ourselves writing songs we could never have written before.