Don Airey will be performing with Uriah Heep in place of Phil Lanzon on the two upcoming German gigs: January 14th in Würzburg and 15th in Frankfurt. Phil will not be able to perform due to family matters — he had lost his eldest son to cancer just before Christmas. Don graciously agreed to step up to save the gigs (which are a package deal with Nazareth and Wishbone Ash):
I've been friends with the fellows in Uriah Heep for many years. When I learned of the tragedy that befell my good friend Phil Lanzon, I was more than happy to stand in for him.
In other related news, Don's band for the February 2020 UK tour will be: Simon McBride (guitar), Dave Marks (bass), Jon Finnigan (drums), and Mitchel Emms (vocals). Carl Sentance is conspicuously absent, due to having a full time job in Nazareth these days. He will return for the second leg on the continent in March. These March dates are billed as Colosseum II Remembered tour, performing music from Strange New Flesh, Electric Savage, Wardance, Variations, plus previously unreleased material.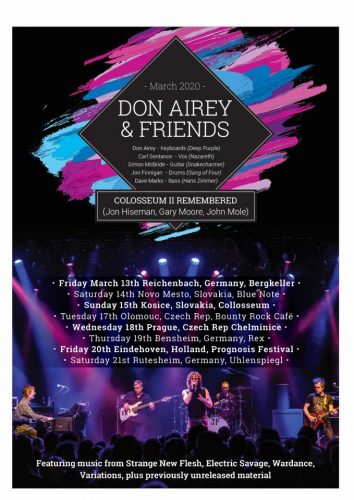 See our calendar for further details.
Thanks to Nigel Young and Akemi Ono for the info.