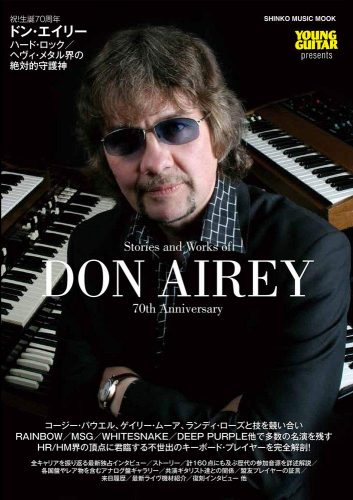 Japanese publisher Shinko Music Mook has a new book out. Published in December 2018, it is titled Stories and Works of Don Airey and is dedicated to all things pertaining to Deep Purple's keyboard player.
Contents
Introduction
Don Airey Live Tours In Japan 1980-2018
Exclusive long interview
Don Airey Story ~ From Sunderland to Infinite
Discography part 1: solo albums
Discography part 2: principal contributions
Discography part 3: session work
Singles & EPs label/artwork collection
Nostalgic gallery of Japanese editions "Obi" wrappers
Memorabilia 1: Rainbow 1980 European Tour programme
Overview of the current tour equipment
Equipment used for the 1980's tours
Column: Who is Don Airey?
History of concerts in Japan (live dates/places/band members/songs played)
Column: Repertoire of the live solo shows
Don Airey vs. Guitarist ~ relations with acclaimed guitarists: Bernie Marsden/Gary
Moore/Ritchie Blackmore/Randy Rhoads/Michael Schenker/Uli Jon Roth/Glenn Tipton/Steve Morse
Over The Top Beyond The Rainbow – Cozy Powell and Don Airey
Neil Murray/Colin Hart
Memorabilia 2: Tickets and flyers
Interview reprints:

1980: First arrival date in Rainbow from "Music Life" July 1980 issue;
1988: 1st solo album "K2" released from "Metallion 4";
2001: Uli Jon Roth's visit to Japan from "BURRN!" August 2001 issue;
2004: Deep Purple 'Bananas' tour to Japan from 'BURRN!' June 2004 issue.

Epilogue
Cover photo by Richard Ecclestone, 5th April 2005.
The book is, naturally, all in Japanese and can be ordered via Amazon.
Thanks to Nigel Young for the info.