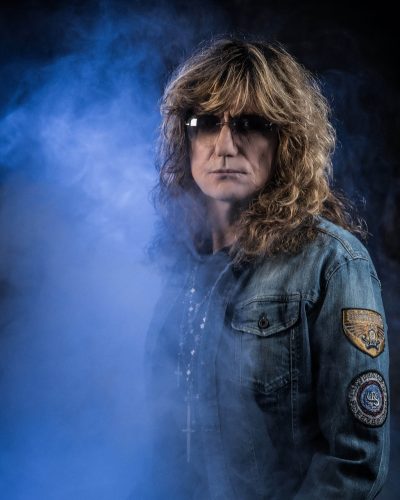 Consequences of Sound has a lengthy interview with David Coverdale, done to promote his upcoming new album and tour. It starts, however, with David's relationship to the old bandmates.
I went out on the Forevermore tour, which was really successful. It was a two-year world tour. And I thought I could comfortably leave that as my last studio record. And then, the consequence of losing Jon Lord — who called me, to tell me of his illness, that he had been diagnosed with pancreatic cancer, and [asked] if I would be there for him to do something Purple-related. Of course, I said yes. But I have no desire to go back — I love what I do — but Jon Lord's Jon Lord, and I love him dearly. Sadly, as you know, he didn't survive. A huge loss. It was a terrible, challenging time that my wife and I went through, because I lost Jon, I'd lost my favorite aunt, and my wife lost her beloved brother, in this small window of time. I was thinking, "What the hell am I supposed to learn from this? This is so savage." And my feeling was, "I want to reach out and reconnect with people — privately and professionally — as we're all getting older." At least Jon Lord knew that I loved him. We had certainly expressed that sentiment. He was absolutely pivotal in relaxing me at my audition for Deep Purple, and then the rehearsals for the Burn record. He was just a beautiful gentleman. But it also inspired me.

And I had a dreadful, 30-year competitive negative energy with Ritchie Blackmore. Who, initially, I was a disciple at his feet. I learned a great deal of things — and unbelievable amount. So, these two guys, Jon Lord and Ritchie Blackmore, were immense. And I thought, "I can't let this go." Ritchie was so important to me and pivotal in being who I am, and the generosity of these guys giving me — a complete unknown singer — the job with Deep Purple. When I reflect upon it, it's ridiculous. So, one of the people I reached out to bury the hatchet was Ritchie. And Ritchie, we shared our condolences on the loss of Jon, and were speaking quite regularly. He asked me to speak to his manager, Carol, who said, "Would you be interested in doing anything with Ritchie?" And I said, "Well, I really am really very happy with where I am. There was no agenda in me reaching out, other than to bury the hatchet — fueled by the horrible loss of Jon.
Read more in Consequences of Sound.
Thanks to Jim Collins for the info.