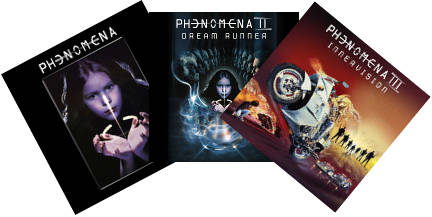 Back in the mid-80's, Mel Galley (Trapeze/Whitesnake) was looking for a new outlet for his musical energies after having left Whitesnake; his producer brother Tom had ideas about a progressive rock concept project, and together they assembled a multi-media piece with contributions from a number of well-known rock musicians, including members of the Deep Purple family such as Glenn Hughes, Don Airey, Cozy Powell, and Neil Murray.
The storyline underlying the first release was continued through two more recordings, along with the approach of using many collaborative musicians; the second record spawned a hit single (I Did It All For Love) as well. You can see the accompanying video for that on YouTube:
https://youtu.be/Ir4zpL4xh78
Now the recordings have been reissued (andremastered by Mike Pietrini in 2018) with new liner notes, an interview with Tom Galley, and previously unseen artwork and imagery selected by Tom from his personal archive. Since the concept running through the Phenomenon project was one continuous story thread, they have chosen to collect all the additional tracks from the sessions together; they will be released on a forthcoming Anthology CD.
You can find them at
Phenomena I Amazon CD: http://geni.us/Phenomena1
Phenomena I iTunes: http://geni.us/Phenomena1dig
Phenomena II Amazon CD: http://geni.us/Phenomena2
Phenomena II iTunes: http://geni.us/Phenomena2dig
Phenomena III Amazon CD: http://geni.us/Phenomena3
Phenomena III iTunes: http://geni.us/Phenomena3dig
Thanks to Daniel Earnshaw for the details