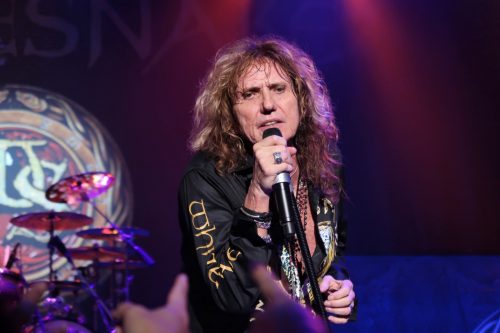 David Coverdale has recently appeared on the Ultimate Classic Rock Nights radio show recalling the first time he appeared on stage with Deep Purple. Copenhagen, December 9, 1973:
I walk onstage for the first time – where it came from, I don't know, but I still do it – 'Are you ready?' I screamed into the microphone, and I've got a very powerful voice. So, like, everybody goes, 'Oh my God!' and there's this roar from I don't know how many thousands of people. And it was great.
Suddenly I'm singing, Ritchie's smashing a guitar, dragging amp stacks over," Coverdale recalled. "Paice is trashing his drums. And I've like become a member of the audience while I'm actually onstage. Lordy's thrashing his organ, boys and girls, thrashing his organ every which way! And I'm going, 'My God, I should do something, I should do something … ' I'm going, 'I can't afford to smash anything!'

I had a ring on, which was like ten bucks, so I took it off with great drama, threw it on the floor and stamped on it. That was my contribution to the madness and mayhem!
Thanks to Ultimate Classic Rock for the quote and to Jim Collins for the heads up.