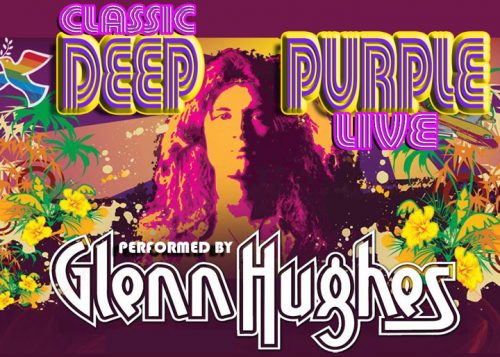 Glenn Hughes did an interview with Icon vs Icon blog promoting his Classic Deep Purple Live tour in the US:
You're about to launch a U.S. tour playing the music of Deep Purple. What made now the time to bring this tour to the masses?

I didn't want to bring this to the stage with uncaring musicians. I asked myself, "Are these dudes going to give my audience what I would consider to be a great show?" Do I still have the Glenn Hughes Band playing Deep Purple songs? The answer is no! I'm changing it up and bringing people in that I think are more suitable to Deep Purple sounding songs. Look, do I like letting people go? No! I've been a guy who keeps a band together for at least five to six years. This thing is a two-year tour that basically takes us around the world twice. I wanted, if I may be so bold, to bring a band that sounds as close to Deep Purple Mark III and IV as possible. I'm being a little facetious here but why would I want to bring the band that didn't sound as close to the original band? I just want people to maybe close their eyes a little bit and go, "Wait a minute! This is damn close here!" That's the way it should be! This isn't just something that came off the top of my head. When we talk about these kids Greta Van Fleet, forget about the way they look, when you hear that sound you go, "Dammit, that's as close as you're going to get!"

I'm bringing in an incredible guitar player named Jeff Kollman. He was with me 10 or 15 years ago and is an aficionado of the Stratocaster. I'm also bringing in a Hammond organ specialist from my band Kings of Chaos with Duff McKagan, Matt Sorum, Gilby Clarke and Joe Elliott. His name is Mike Mangan and he is a Hammond organ specialist as Jon Lord was. I have Ian Paice-style drummer, Eduardo Rivadavia from São Paulo, Brazil. They are all coming to bring that vibe into my band. I want to bring a band onto the stage that's going to make people fuckin' sit up and take notice! I don't want everything to be tied up into a pink little bow where it's all pretty and it sounds just like the album. No, no, no, no! It ain't going to be like that! It's can be blustery, organic, soft, loud, celebratory and in the raw!

For me, I'm not trying to have people look like Blackmore, Paice and Lord, but I would like people to say, "Dammit that sounds fucking close!" Wouldn't they want that, and wouldn't they want me to sound exactly like I did in 1974? Because that's what's going to happen! Bro, that's what I'm bringing! I've never been in this fine a shape. I don't think I've been in this kind of shape for a very long, long time. It's a good time for me to expand, travel, take care of myself, get a lot of sleep, a lot of water and do what I have to do to bring my show across the planet!
Read more in Icon vs Icon.
Thanks to Yvonne for the info.