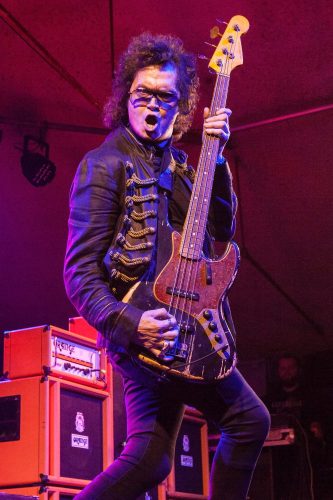 Glenn Hughes spoke to Icon vs. Icon couple of weeks ago promoting Resonate, which resulted in an extended interview published on their website. Never being shy with superlatives, 'incredible' must be the most often used word in all of this (no, we didn't do the math).
You followed that incredible night [RRHoF induction — THS] up with a tour of the United States. How was the trip?

It's always an honor for me to play anywhere in America because it has been so long since I had done a tour. To play up in the northeast was a great way to start the summer. It is so, so beautiful up there! My god, it's incredible! It was really hot but the fans turned out and we had great audiences and everyone was very receptive throughout the tour, all the way from the East Coast through the Midwest, all the way up the North and then back into LA. Every place we visited was incredible and the good news is that we're making plans to tour again in the spring!
And on the issue of BCC reunion:
Earlier this year, it was revealed Black Country Communion will make its return in 2017. How did you guys get back on the same page after the past few years apart?

One thing I want to make clear to everybody across air nation is that Joe Bonamassa and I never fell out. It just happened that after "Afterglow" was recorded and released in the fall of 2012, there was no touring schedule set. Being that there was no touring schedule set, I decided to leave the band simply because I needed to go back to my solo career. There was never falling out. Joe was continuing with his solo career and it just never worked out that we could do a lot of touring. Over the course of the years, we have spoken to each other and we had lunch the spring. We said, "Wouldn't it be great to make another record? Maybe the time is right to do that." There's certain times when people get back together for reunions and if they have their material, they have a good insight. We are actually writing now and we have written half of the album. Joe is coming next week to finish up the songs and we will be headed back into the studio in January.
Read more in Icon vs. Icon.
Thanks to Blabbermouth for the info.