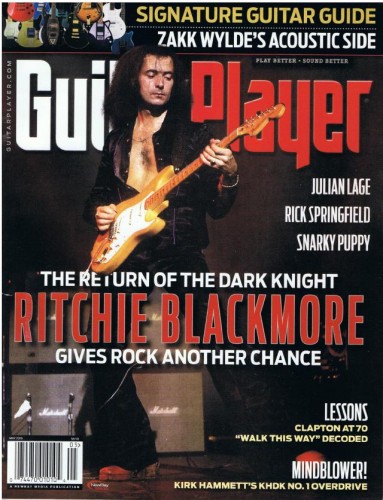 Ritche Blackmore is featured on the cover of May 2016 issue of Guitar Player magazine. The cover story includes his profile, interview with the man, and reminiscences from Jim Hurley, Blackmore's Night violin player in 1999-2000.
Selected quotes from the interview:
What's the perfect guitar tone for you?

The combination of an owl meeting a bumblebee in mid flight.
You once did a pilgrimage to Bach's house. Were there any epiphanies from the visit?

There was an ice cream store there, and I did indulge. Then, I proceeded onto the garden where I picked up a stone and put it in my wallet as a keepsake.
The issue is now available to the subscribers and should be available on the newsstands either now, or pretty soon.
Thanks to Amit Roy for the info.