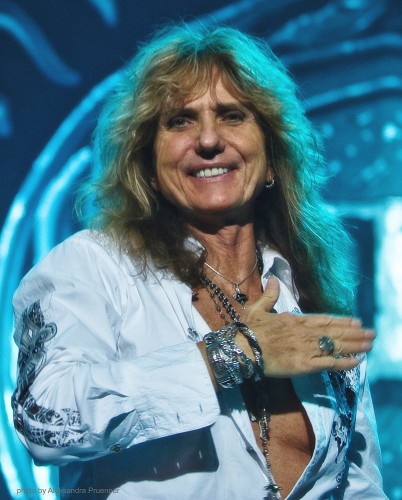 Ian Gillan has announced that he is unavailable for the upcoming US tour with Deep Purple due to other commitments. The "Rock Meets Classic" tour in Europe was so successful that he decided to skip the DP tour to be able to squeeze in more dates with his new friends.
When David Coverdale (pictured) heard this, he offered his services, eager to take on the Mk. II and Mk. Morse catalog after recording Mk. III and IV on his upcoming Purple Album.
"To be honest, the Purple Album didn't turn out the way I wanted it.", said Coverdale. "It was a big mistake to not invite Paicey to play on my album. Now we'll get a chance to do things right and I finally get to sing Smoke On the Water again. I've missed that since 1976."
"This is a big relief for me", says Don Airey. "I was always a bigger fan of Mk. III and I was getting tired of arguing with Gillan about my idea of doing the complete Stormbringer album at some concerts."
Glenn Hughes was also approached for the tour but he replied on twitter: "All love to my Purple Brothers but I have 9 dogs to take care of and 3 of them just ripped my John Varvatos jacket to pieces. I'm off to the vet."
David Coverdale will be taking requests for the setlist on the forum on his site.