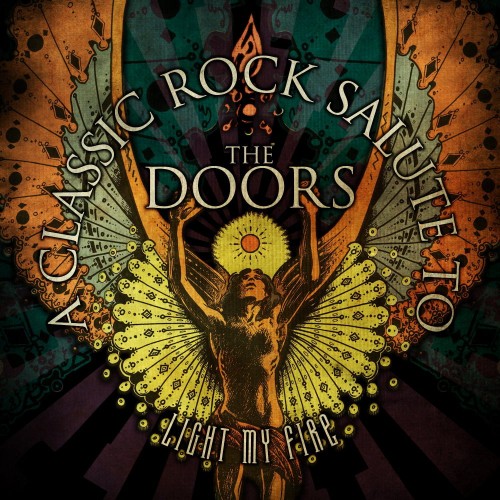 Ian Gillan, Steve Morse, Joe Lynn Turner, and Graham Bonnet, along with extravaganza of classic rock luminaries, contributed to the Light My Fire – A Classic Rock Salute To The Doors CD which is due out on July June 24 via Cleopatra imprint Purple Pyramid Records.
Steve Morse says:
[The Doors were] a soundtrack, literally, for some of the most memorable times, good and bad, that I experienced as a young teen. Like many of my favorites, they were adventurous, improvising, unafraid of what the media might say, and all with a sort of lyrical freedom that still stands up today.
Gillan sang Light My Fire, accompanied by none other but Rick Wakeman and Steve Howe from Yes. His "trackmates" add to the praise. Wakeman:
[Light My Fire] has always been one of those iconic tracks that keyboard players listen to because of the fact that there are so few tracks with keyboard/organ solos on them compared to our six-stringed buddies. It's also a solo area that is totally open to interpretation so whatever you do is not comparable to the original, so it was an absolute joy to do.
Howe:
I was delighted to play on this album as The Doors were a band I heard a lot as everywhere I went in the late '60s their music was playing, at friend's, in restaurants, gigs and bars throughout London. I'm sure I saw them play at Middle Earth, a then hip club. Then, when the reissue more recently came out, I got totally back into their music, especially Light My Fire.
Track listing:
L.A. Woman — Jimi Jamison (Survivor), Ted Turner (Wishbone Ash) and Patrick Moraz (Moody Blues)
Love Me Two Times — Lou Gramm (Foreigner), Thijs van Leer (Focus) and Larry Coryell
Roadhouse Blues — Leslie West (Mountain), Brian Auger and Rod Piazza
Love Her Madly — Mark Stein (Vanilla Fudge) and Mick Box (Uriah Heep)
Riders On The Storm — Joe Lynn Turner, Tony Kaye (Yes), and Steve Cropper (Booker T. & The M.G.'s)
The Crystal Ship — Edgar Winter and Chris Spedding
Intro (People Are Strange) — Keith Emerson, Jeff "Skunk" Baxter and Joel
Druckman (John Fahey)
People Are Strange" — David Johansen (NY Dolls) and Billy Sherwood (Yes)
Touch Me — Robert Gordon, Jordan Rudess (Dream Theater), Steve Morse and Nik Turner (Hawkwind)
The Soft Parade — Graham Bonnet, Christopher North (Ambrosia) and Steve Hillage (Gong)
Hello, I Love You — Ken Hensley (Uriah Heep) and Roye Albrighton (Nektar)
Spanish Caravan — Eric Martin (Mr. Big) and Elliot Easton (The Cars)
Alabama Song (Whiskey Bar) — Todd Rundgren and Geoff Downes (Yes / Asia) and Zoot Horn Rollo (Captain Beefheart)
Break On Through (To The Other Side) — Mark Farner (Grand Funk Railroad) and Chick Churchill (Ten Years After)
Light My Fire — Ian Gillan, Rick Wakeman (Yes) and Steve Howe (Yes)
The End — Pat Travers and Jimmy Greenspoon (Three Dog Night)
Thanks to BraveWords for the info.